In late December 2016 Almondsbury Forge were asked by HP builders to commission a bespoke staircase that would satisfy the clients needs. The job was on a new build in Coalpit Heath, however the building was complicated as the client required the builder to use the existing boundary wall as part of the building, normally this would be quite simple, on this occasion though the boundary wall had a 'kick' of around 15 degrees making the build complex. With an irregular shaped layout a traditional staircase had been ruled out, this was due to the client not wanting kite winders on the landings, which are a real compromise, however by constructing the staircase from steel it would be self supporting due to the structure. It was decided that the staircase would be finished in black and would look best with European oak treads as there were oak doors through out the property.
Following a site survey with the client and builder we raised some initial basic drawings and a quotation, within a few days this was accepted and a deposit paid. A few weeks later we returned to site and took final measurements, with this information our design team drew up manufacturing drawings for the clients final approval.
Manufacturing
The majority of the components required needed to be accurately designed and cut, the best way of doing this is for us to draw the parts in a cad file, then send these files to our laser cutting supplier, they put those files into their laser machine and it cuts the parts to very high tolerances, then ship the completed parts to us for manufacture.
The parts that have been cut are now put together in our workshops in Elberton, once the platforms and stringers have been manufactured we assemble the parts, we have enough space to put it all together for the next process, this is the forming of the balustrade which will have a continuous top rail, this itself is complicated to form and will require the fabricator to heat the metal up bend it around formers until it meets our requirements.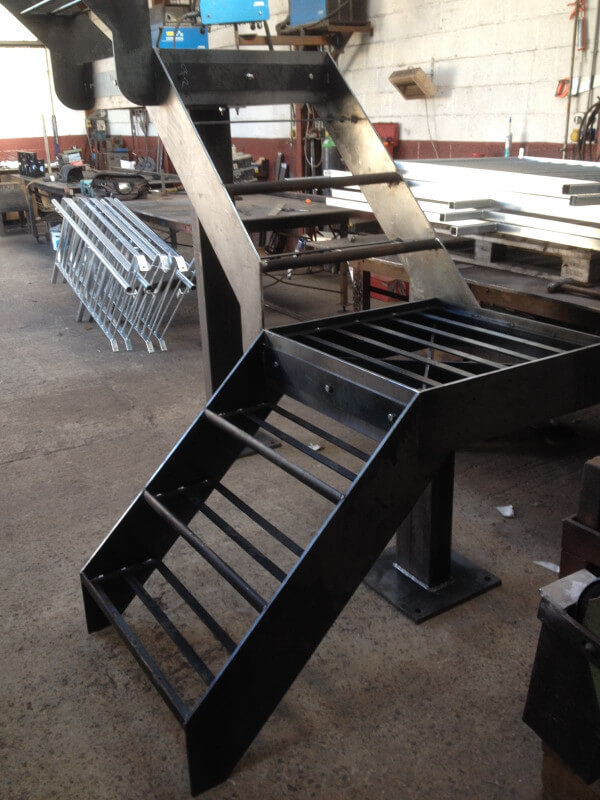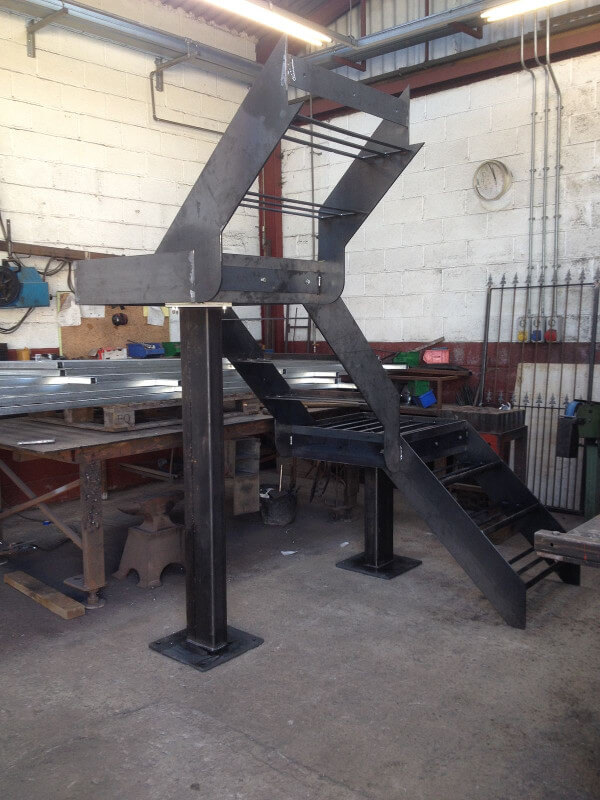 Coating
Once the balustrade has been manufactured, the staircase is disassembled and put on a pallet ready to go for polyester powder coating. At the powder coating factory, all the metal is shot blasted to remove any surface rust and scale, then the powder coating finish is applied below is a video showing how the process is done.
While the staircase is at the powder coaters we order the European oak for the treads and platforms, the planks used are not wide enough to cover the area required so the specialist wood suppliers we use glue the planks together to the required widths, then cut and sand it to the exact size required, the wood is then oiled using a clear natural oil to bring the colour out.
Fitting
A site fitting day is arranged and the staircase is finally assembled on site, attached is a short slide show showing how progress was made